My First Generation of Londoners


At about the same time as my gt-gt-gt-grandfather John Sackett completed his apprenticeship in 1803, he married Louisa ___, who was born in West Ham.
John and Louisa Sackett seem to have set up home initially in Rotherhithe where their first child, John Henry was born on 25th February 1804. It is understandable that a young journeyman with growing family responsibilities would move from one shipyard to another in search of the best of wages and working conditions, and twenty-one months later they were a few miles downstream, in Deptford, Kent, when Vincent Edward was born on 22nd November 1805. Then they returned to Rotherhithe, where Louisa Sarah was born on 21st February 1808 and Kesiah Mary was born on 2nd May 1810.
My gt-gt-grandfather, Henry Samuel, was born in the neighbouring parish of Bermondsey the following year on 22nd February 1811. Perhaps the young children were taken by their parents to see the Frost Fair held on the frozen River Thames during the severe Winter of 1814.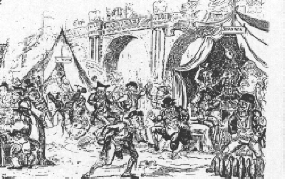 Cruikshank's cartoon of the 1814 Frost Fair
Although they could not have known it, this was to be the last Frost Fair to be held; removal of the Old London Bridge in the 1830s speeded up the flow of the river, and made it impossible for the Thames to freeze in even the coldest of Winters.
The family was living in East Lane, Bermondsey, when Jemima Elizabeth was born on 16th April 1815, and still lived there on 23rd November 1817 when Edward Fox was born. By the birth of Samuel Joseph on 1st April 1820, they had moved to Court Lane, Bermondsey, and their last child, Eli John was also born in Bermondsey in July 1823. All John and Louisa's children were baptised at St. Mary, Rotherhithe.
I have not yet found out what happened to John and Louisa's three children Keziah Mary, Edward Fox, and Samuel Joseph. It is possible that they died as infants, and that their burials were unrecorded; in busy city churches, dead infants were often put in a grave of an unrelated adult and did not have a separate burial service.
By 27th April 1826, when John took Stephen Adams as an apprentice, the family were living in Salisbury Lane, Bermondsey, where they remained for twenty years. The riverside area from Rotherhithe to Bermondsey was described in 1838 by Dickens in Oliver Twist, and the squalid scene of Bill Sykes' death, Jacob's Island, was near Salisbury Lane.
Oliver Twist—written by Charles Dickens in 1838

Chapter 50 The Pursuit and Escape
Near to that part of the Thames on which the church at Rotherhithe abuts, where the buildings on the banks are dirtiest and the vessels on the river blackest with the dust of colliers and the smoke of close-built low-roofed houses, there exists the filthiest, the strangest, the most extraordinary of the many localities that are hidden in London, wholly unknown, even by name, to the great mass of its inhabitants.
To reach this place the visitor has to penetrate through a maze of close, narrow, and muddy streets, thronged by the roughest and poorest of water-side people, and devoted to the traffic they may be supposed to occasion. The cheapest and least delicate of provisions are heaped in the shops; the coarsest and commonest articles of wearing apparel dangling at the salesman's door, and stream from the house-parapet and windows. Jostling with the unemployed labourers of the lowest class, ballast-heavers, coal-whippers, brazen women, ragged children, and the raff and refuse of the river, he makes his way with difficulty along, assailed by offensive sights and smells from the narrow alleys which branch off on the right and left, and deafened by the clash of ponderous wagons that bear great piles of merchandise from the stacks of warehouses that rise from every corner. Arriving, at length, in streets remoter and less-frequented than those through which he has passed, he walks beneath tottering house-fronts projecting over the pavement, dismantled walls that seem to totter as he passes, chimneys half crushed half hesitating to fall, windows guarded by rust iron bars that time and dirt have almost eaten away, every imaginable sign of desolation and neglect.
In such a neighbourhood, beyond Dockhead in the Borough of Southwark, stands Jacob's Island, surrounded by a muddy ditch, six or eight feet deep and fifteen or twenty wide when the tide is in, once called Mill Pond, but known in the days of this story as Folly Ditch. It is a creek or inlet from the Thames, and can always be filled at high water by opening the sluices at the Lead Mills from which it took its old name. At such times, a stranger, looking from one of the wooden bridges thrown across it at Mill Lane, will see the inhabitants of the houses on either side lowering from their back doors and windows, buckets, pails, domestic utensils of all kinds, in which to haul the water up; and when his eye is turned from these operations to the houses themselves, his utmost astonishment will be excited by the scene before him. Crazy wooden galleries common to the backs of half a dozen houses, with holes to look upon the slime beneath; windows, broken and patched, with poles thrust out, on which to dry the linen that is never there; rooms so small, so filthy, so confined, that the air would seem too tainted even for the dirt and squalor which they shelter; wooden chambers thrusting themselves out above the mud, and threatening to fall into it—as some have done; dirt-besmeared walls and decaying foundations; every repulsive lineament of poverty, every loathsome indication of filth, rot and garbage; all these ornament the banks of Folly Ditch.
In Jacob's Island, the warehouses are roofless and empty; the walls are crumbling down; the windows are windows no more; the doors are falling into the streets; the chimneys are blackened, but they yield no smoke. Thirty or forty years ago, before losses and chancery suits came upon it, it was a thriving place; but now it is a desolate island indeed. The houses have no owners; they are broken open, and entered upon by those who have the courage; and there they live, and there they die. They must have powerful motives for a secret residence, or be reduced to a destitute condition indeed, who seek a refuge in Jacob's Island.

Author's Preface
In the year 1850, it was publicly declared in London by an amazing Alderman, that Jacob's Island did not exist, and had never existed. Jacob's Island continues to exist (like an ill-bred place as it is) in the year 1867, though improved and much changed.
John and Louisa's oldest son, John Henry, followed his father into the shipbuilding trade, becoming a bargebuilder. He took up his freedom of the Shipwrights' Company on 23rd March 1825 by Patrimony (i.e. because his father was already a freeman of the company) instead of by Servitude (i.e. having served an apprenticeship).
John Henry married Elizabeth Catherine Meinert on 18th July 1827 at St. Leonards, Shoreditch; presumably in some haste, because their first child was born just three months later on 14th October 1827 at East Lane, Bermondsey. They eventually had at least seven children, all baptised at St. Mary Magdalen, Bermondsey; two other children who died within months of birth were probably also theirs.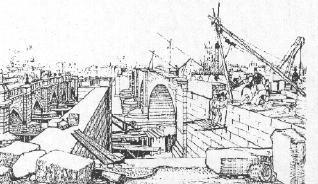 Building New London Bridge (old bridge on left)
In the early years of their marriage, they probably visited the site of Rennie's New London Bridge. It had only five arches, compared with the nineteen arches of the old bridge, making river navigation much easier. The new bridge was opened in 1831 when John Henry was twenty years old.
Elizabeth was born in Bermondsey in about 1808, and was probably related to Henry Richard Meinert, son of Herman Henry Meinert of Bermondsey, who was apprenticed to John Sackett snr. on 29th March 1832. Both John Henry and Elizabeth Catherine seem to have been in their seventies when they died.
John and Louisa's youngest child, Eli John, also became a bargebuilder. He married Amelia Terry, daughter of Richard Terry a lighterman, at St. Mary, Newington on 19th May 1844. They lived for some years in Bermondsey, where they had at least three children, before crossing the river to Stepney, where Amelia died in 1858.
Their oldest son, Eli John was apprenticed to Benjamin Waud, a Thames Waterman for five years in 1863, but died young in 1866 before completing his apprenticeship. A fourth child, Vincent Edward, was born in 1855 in Shadwell and was a barge maker like his father before he became a soldier, serving with the Royal Artillery in India for fourteen years. He married Elizabeth Perrett in Bangalore in 1882, and following his discharge in 1893 he lived in Madras.
Eli John snr. remarried in 1864 in Newington, but nothing else has been found out about his second wife, Ellen. They were living in Charles Street, Millwall in 1874 when Vincent Edward joined the Royal Artillery, and were still there in 1881. Eli John died in 1901.
On 20th July 1856 Eli John witnessed the marriage of his sister, Jemima Elizabeth Sackett to a Thames Police Constable, John White, son of John White mariner, at St. Dunstan, Stepney. Presumably John White was telling the truth when he gave his age as 34, but Jemima Elizabeth's claim to be 38 was on the conservative side; she was really 41!