Why my Sacketts moved from Thanet to London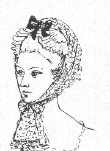 During the second half of the 18th century, seven members of my extended Thanet family tree moved to Rotherhithe or Bermondsey to serve apprenticeships as shipwrights.
All were grandsons or great-grandsons of Thomas Sackett and Elizabeth (nee Nuby) of Birchington, Kent. The reasons for them choosing this career cannot be known for certain, but the following factors may have played a part in the decision.
Firstly, the early 18th century saw the great improvements in farming methods now called the Agrarian Revolution. Land in Thanet was enclosed at an early date, so farmers there did not go through as much upheaval as occurred elsewhere in England. All the same, great changes did occur, and perhaps provided an impetus for young men of farming stock to take up different occupations.
Secondly, throughout the 18th century a state of tension existed between Britain and France. Britain was at war 1703–1713 (War of Spanish Succession), 1740–1748 (War of Austrian Succession), 1756–1763 (The Seven Years' War), 1775–1781 (American War of Independence), and 1793–1815 (Napoleonic Wars). These wars were fought at sea as well as on land, stimulating the need for naval shipbuilding, maintenance of the existing ships in port, and for trained shipwrights on board to do running repairs. It was also a time of increasing colonial trade with Canada, America, India, and at the end of the century, Australia. Growth in trade brought increased demand for all sorts of boats, including the lighters and Thames sailing barges built by these Sacketts. Hence job prospects for shipwrights were very good.
Thirdly, it is notable that (where records survive) the fees charged by the apprentice masters were often purely nominal; just a farthing in one case! This strongly suggests that the apprentice masters were relatives or close family friends of the Sacketts, and personal recommendation of the merits of the trade could have been a powerful incentive for selecting shipbuilding as their occupation.
It may be relevant that a different branch of the Sackett family was engaged in shipbuilding in Margate; Paul Sackett, Master shipwright and boatbuilder of Margate paid tax for his apprentices in 1765 (twice) and in 1769. Although it is unlikely that the 18th-century Sacketts would have known they were distantly related, there may have been natural curiosity about a business run by a family with the same surname.
The first apprentice in London was Thomas Sackett, baptised 1734, oldest son of Henry Sackett, husbandman of Margate, and Elizabeth (née Clifford). He started his 8-year apprenticeship to Thomas Peach in 1748, at which time the Thames was very different from now. There were no embankments, and the river was still crossed by just the one Old London Bridge, with houses on it, some only recently rebuilt.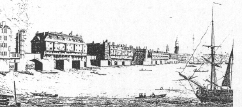 London Bridge in 1751
Perhaps Thomas Sackett was a witness to the fire in 1757 which finally destroyed the houses on the bridge. He almost certainly saw the 1765 fire which swept through about 200 wooden houses in the narrow streets of Rotherhithe.
Thomas and his wife Mary had at least five children between 1765 and 1774. The first two were baptised at St. Mary Rotherhithe, and the rest at St. Mary Magdalen Bermondsey. One of Thomas's sons, George, born 1772 in Bermondsey, started a 7-year apprenticeship as a Thames Waterman in 1786, and became a freeman of the Company of Watermen and Lightermen in 1794.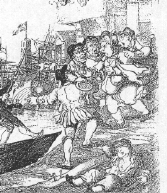 Cartoon by Rowlandson showing 18th-century Thames watermen competing for custom
Thomas's and George's addresses in Bermondsey included East Lane and the parallel street, Salisbury Lane. Thomas and Mary were living in Salisbury Lane in June 1780 when the anti-Catholic Gordon Riots took place, during which a Roman Catholic mass-house in East Lane was destroyed, and neighbouring Roman Catholic houses were damaged or pulled down by the mob. Both were roads where my gt-gt-gt-grandfather John Sackett later lived with his family.
Apart from a ribbon of development along the river, 18th-century Bermondsey and Rotherhithe were rural. Both parishes were criss-crossed by ditches and streams; the rich water meadows were used for fattening cattle for the London market, and fruit and vegetables were grown in the market gardens. Bermondsey became a fashionable centre for entertainment and the arts following the discovery in 1770 of a mineral spa in the grounds of a teagarden, and the Prince Regent enjoyed music and dancing at the St. Helena Tea Gardens in Rotherhithe.
Bermondsey and Rotherhithe were officially part of Surrey until absorbed into London during the late 19th century. By then both parishes were heavily urbanised, with much slum property.
Thomas and Mary eventually died of old age, by which time they were in Bermondsey Workhouse. This may indicate that they were destitute, but not necessarily so, because the workhouse also housed the local Infirmary, used by those who could not afford to be private patients in the nearby Guy's or St. Thomas's Hospitals. Mary died in 1816 aged 76, and Thomas in 1817 when his age was recorded as 85. He was actually 83.
Ambrose and Henry Sackett, younger sons of John Sackett, a gentleman of Margate, and his first wife Mary (née Austin), were first cousins of Thomas Sackett. Both served seven-year apprenticeships and became lighter builders. Ambrose, born in 1743, started his apprenticeship to Meridith Bishop in 1757, and Henry, born 1745, started his apprenticeship to Nathaniel Heckford in 1762. In each case the apprenticeship fee was only nominal.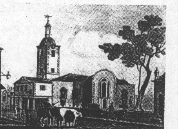 St Mary Magdalen Church
Henry married his first wife, Ann Terry, in 1770 by licence at St. Mary Magdalen Bermondsey. Ambrose was a witness at the wedding, and it is very likely that he was best man. Henry and Ann had four children between 1771 and 1778, all baptised at St. Mary Rotherhithe. Ann's burial has not yet been located, but in 1787 Henry was remarried by licence at St. Mary Magdalen. His second wife, Hannah Foott, appears to have been a non-conformist, as their two children were baptised at Jamaica Row Independent Chapel, Bermondsey, in 1788 and 1789. Sadly Hannah seems to have died just four weeks after the birth of their second child, John. Possibly the children were then raised by Henry's parents, because his daughter's death in 1799 was recorded on the family tomb at St. John's, Margate, Kent.
By 1792 the brothers had their own lighter-building business near St. Mary's church, at 52 Rotherhithe. St. Mary's had been rebuilt by local craftsmen in 1715 because, as was reported to Parliament in 1710, the old church "standing very low and near the banks of the Thames, is often overflowed, whereby the foundations of the church and tower are rotted and in great danger of falling". Since many of the men were shipwrights, the roof was constructed like an upturned hull.
Both Ambrose and especially Henry were much involved with the administration of the Shipwrights' Company. Henry became an Assistant in 1780, and Ambrose did likewise in 1784. Henry was a Steward at the 1788 Lord Mayor's Day, as was Ambrose in 1792. At this time the Lord Mayor's parade took place on the Thames, using highly decorated ceremonial barges. Henry was elected as one of the two Wardens for two years in 1791, and was again a Warden in 1794 when he became one of the four Trustees responsible for all the Company's money. In 1799 Henry was elected Auditor, and in 1812 he achieved the ultimate post of Master of the Worshipful Company of Shipwrights.
By 1811 their shipbuilding business had passed to Thomas Sackett (presumably their cousin whose details follow) and (? Henry) Stokes. It was not mentioned in either Ambrose's or Henry's wills. Henry appears to have lived for a while in Kennington, Lambeth, but eventually they both seem to have retired to Margate, where Ambrose was buried in 1813, and Henry in 1815.
Ambrose's first apprentice was Thomas, son of William Sackett, farmer of Margate. Firmly identifying this Thomas has caused problems. An apprenticeship starting in 1777 implies a birth date in the early 1760s, but no Thomas son of William Sackett was baptised in Margate 1760–1765, so other possibilities have been considered. The most likely candidate is Ambrose's first cousin Thomas, son of William Sackett and Elizabeth (née Dawson), who was baptised in Margate in 1754. He would have been aged 23 in 1777 and therefore unusually old to start an apprenticeship, but his birth date ties in well with the burial of a 76-year-old Thomas Sackett at Rotherhithe in 1831.
Thomas did not take up his freedom of the Shipwright's Company when he completed his apprenticeship, but eventually took it up in 1795, on the same date as his first apprentice started his apprenticeship. Perhaps he could not become an apprentice master unless he had formally become a Freeman of the Company. Or it might have been due to encouragement from his cousins Ambrose and Henry; I believe he was the Thomas who took over their business.
Thomas Sackett married Susanna Robbins at St. Mary Marylebone, Middlesex in 1787. She and her baby son were buried within weeks of each other at Rotherhithe in 1790. Four years later, Thomas married Martha Grant at St. John Horselydown, and by 1802 they had baptised three children at Rotherhithe. They were living in George Row, Bermondsey, in 1795, Salisbury Place, Bermondsey, in 1803–4, and at Paxtons Alley, Rotherhithe, in 1811. In 1820, Thomas Sackett, shipwright, was working at Mill Stairs, Bermondsey. Thomas died in Bermondsey in 1831 aged 76. His widow Martha survived him by 10 years and was 81 when she died. Both were buried at St. Mary Rotherhithe. Their oldest son, Francis, and two grandsons, Thomas Francis and Francis Robert Sackett, also became shipwrights.
In 1797 Thomas took as an apprentice William, son of John Sackett, a carrier of Margate, Kent. William was probably the son of Thomas's brother, John Sackett and Mary (née Hughes), who was baptised in 1781 at Birchington, Kent. When William took up his Freedom in 1804, his address was recorded as Salisbury Place, Bermondsey—presumably Thomas's home.
Thomas was a witness at William's marriage to Lydia Hooff in 1805 at St. John Horselydown, and by 1808 the couple had baptised two children at St. Mary Rotherhithe. No other record of the family has been found until 1824, when William died of that scourge of Victorian cities, consumption, and was buried at St. Mary Magdalen, Bermondsey. A child, Mary, buried in the same church that year may have been a third child of this family. It is just possible, although rather unlikely, that his widow was the Lydia Sackett who died aged 80 in Shoreditch in 1871.
Edward Newing Sackett became a shipwright apprentice in 1795. He was a son of Jeremiah Sackett and Hannah (née Newin) baptised 1780 at St. Lawrence in Thanet, and a cousin of the Sacketts mentioned already. By 1841 he was apparently married to Ann, an Irishwoman, and had a son Edward Jeremiah who was also a shipwright. Ann seems to have died in Bermondsey in 1842; Edward Newing also died in Bermondsey, in 1853 aged 73.
Lighters on the Thames
Another Edward Sackett to become a shipwright was the son of John Sackett, husbandman, and Catherine (née Andrews), baptised in 1791 at St. Peter in Thanet. He was apprenticed in 1808, but got married only two years later in 1810 to Mary Saunders at Christchurch, Stepney Spitalfields. Their only child, Edward Saunders Sackett, was baptised in 1811 in St. Lawrence in Thanet. He subsequently became a Methodist Minister, and in a memoir written by his brother-in-law it is stated that he was brought up in Hoddesdon while his father was absent with the Fleet, but returned to Thanet following his father's death in 1818. Evidently Edward senior had joined the Navy, but whether as a seaman or whether as a shipwright to do on-board repairs is not known.
The seventh of the Thanet-born Sacketts to move to London to become a shipwright was my gt-gt-gt-grandfather, John Sackett, another son of John and Catherine, born 1782, and apprenticed on 25th February 1796 to his distant cousin Henry Sackett, the Rotherhithe shipwright, for a total fee of £1:17s. He should have completed his apprenticeship in February 1803, and on 28th April 1803 he paid £1:1s on becoming a Freeman of the Shipwright's Company.
Thomas Sackett's Indenture of Apprenticeship

Corporation of London Record Office — Alphabets of Freedom
October 1795: Freedom by Servitude
Indenture of 1777:-
THIS INDENTURE Witnesseth, That Thomas Sackett, Son of William Sackett of Margate in the Co. of Kent, Farmer, doth put himself Apprentice to Ambrose Sackett, Citizen and SHIP-WRIGHT, of London, to learn his Art, and with him (after the Manner of an Apprentice) to serve him from the Date hereof for Seven Years from thence next following, to be fully and completely ended : During which Term the said Apprentice his said Master faithfully shall serve, his Secrets keep, his lawful Commands every where gladly do. He shall do no Damage to his said Master, nor see it to be done of others ; but that he, to his Power, shall let, or forthwith give, Warning to his said Master of the same. He shall not waste the Goods of his said Master, nor lend them unlawfully to any. He shall not commit Fornication, nor contract Matrimony within the said Term. He shall not play at Cards, Dice Tables, or any unlawful Games, whereby his said Master may have any Loss. With his own Goods or others, during the said Term, without Licence of his said Master, he shall neither buy nor sell. He shall not haunt Taverns or Play-Houses, nor absent himself from his said Master's Service Day or Night unlawfully : But in all Things, as a faithful Apprentice, he shall behave himself towards his said Master, and all his, during the said Term. And the said Master (in Consideration of one Penny said Apprentice) in the same Art and Mistery which he useth, by the best Means that he can, shall teach and instruct, or cause to be taught and instructed ; finding to his said Apprentice, Meat, Drink, Apparel, Lodging, and all other Necessaries, according to the Custom of the City of London, during the said Term. And for the true Performance of all and every the said Covenants and Agreements, either of the said Parties bindeth himself unto the other by these Presents. IN WITNESS whereof the Parties above-named to these Indentures interchangeably have put their Hands and Seals, the Twenty Seventh Day of November in the eighteenth Year of the Reign of our Sovereign Lord George the Third, of Great-Britain, France and Ireland, King, Defender of the Faith, And in the Year of our Lord One Thousand Seven Hundred and Seventy Seven.

Sealed and Delivered (being first Duly Stamped) in the Presence of
J. Whittell   Clerk     Thomas Sackett

N.B. The Indenture, Covenant, Article, or Contract, must bear Date the Day it is executed; and what Money or other thing is given or contracted for with the Clerk or Apprentice, must be inserted in Words at length; and the Duty paid to the Stamp-Office, in London, or within the Weekly Bills of Mortality, within one Month after the Execution; and if in the Country, and out of the said Bills of Mortality, within two Months, to a Distributor of the Stamps, or his Substitute; otherwise the Indenture will be void, and the Master or Mistress forfeit Fifty Pounds, and another penalty, and the Apprentice be disabled to follow his Trade, or be made free.

Dorse of Indenture :-   D.M. Lauchlan   Warden