2007 Reunion, Fort Wayne, Indiana
TSFA Reunion Meeting
by Glenna Hertzler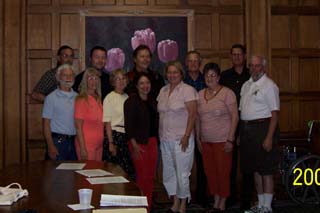 Back: Mike Penn, Dan & John Sackett, Thurmon King, Don Hertzler. Front: Lester Sackett, Mary Lou Sackett, Glenna Hertzler, Gini Jonas-Sackett, Debbie Barbee, Jean Carpenter, Ted Smith.
A good group of Sackett family gathered in Fort Wayne, Indiana the week of August 10 to August 13. Once more folks came from all parts of the United States to meet together as The Sackett Family Association. Lots of visiting was enjoyed with some new faces present and some "old" ones.
We were in a downtown hotel with an easy three block walk to the Allen County Genealogy Library, two blocks from the Arboretum, three blocks from the Fort Wayne Historical Museum and some great nearby restaurants.
Friday and Saturday were free days to visit all of the above. Saturday evening the whole group ate together at the The Old Gas House Restaurant which has operated in Fort Wayne since 1957. We had a grand time visiting and getting to know each other. That evening a number of the group continued their visit in the lobby of our hotel.
On Sunday afternoon we had our business meeting with much discussion about how we might continue to improve our association and encourage participation in our goals to research, share and preserve. The meeting lasted from 2:00 to 4:30 PM. The membership report sent by our registrar, Tom Smith, indicated that we have experienced at least 15-20 percent membership growth each year since our inception. We currently have 179 registered members. Thurmon King, our historian, indicated that the majority of the new members have joined after finding the Sackett database on John Lisle's web site or the Sackett discussion group at Nancy's Rootsweb site.
Sunday evening many of the group ate together again, this time for "awesome" sandwiches at Harry's Bar and Grill. We had fun sharing Sackett stories from our past. The sharing time continued back at the hotel lobby that evening.
Those attending and their states of residence: Thurmon and Sylvia King, Washington; Debbie Barbee, New York; Sandra Berry and her niece, Ashley, Indiana; Jean Carpenter, Virginia; Don and Glenna Hertzler, Oklahoma; Lester and Gina Jonas Sackett, Massachusetts; Mary Lou Sackett and Mike Penn, Michigan; John and Terri Sackett, New Jersey; Rachel Stella and grandson, Neil, Indiana; Dan Sackett (brother to John) and Miriam Sackett (mother to John and Dan), Michigan; and Ted Smith, California.
Everyone appreciated Mary Lou's leadership in organizing the gathering and we all look forward to next time, hoping you will be there.