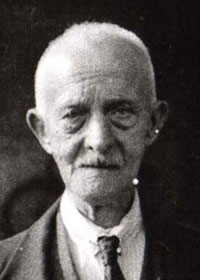 The Sackett family
The Sackett family originated in England in the Isle of Thanet, Kent, probably at Sackett's Hill in the parish of St Peter's. The earliest record is that of William Saket of Southborough, St Peter in Thanet, who in 1317 was in a legal dispute with the Abbot of St Augustine.
The Sacketts were among the first colonists of America, with Simon Sackett arriving at the Massachusetts Bay Colony just a few months after the Winthrop Fleet of 1630, and John Sackett, possibly a nephew of Simon, arriving in New Haven sometime before 1641.
History & Memoirs – Earliest Sacketts, The Sackett name, Sackett's Hill, Migration & distribution, Sacketts in the New World…
Featured Sackett
Notable Sacketts – some famous, some infamous, and some just interesting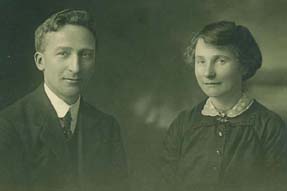 ---
Thomas Edward & Florence Sackett
from the Jabez Sackett family gallery.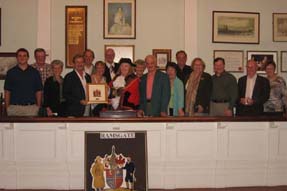 ---
Open to anyone with an interest in the Sackett family history.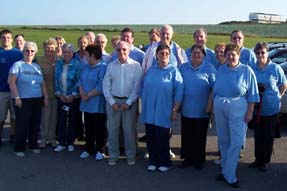 ---
Members' pages include Sackett ancestries.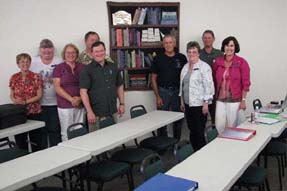 ---
Meet other members at regular reunions.

The objectives of The Sackett Family Association are to research and record historical and genealogical data on Sackett descendants worldwide.

An Association research project to document Sackett references in newspapers.

The primary Sackett genealogical database, mainly American branches.

The roots of the Sackett family lie deep in the soil of the Isle of Thanet.

Sackett mailing list
Visit the Sackett mailing list at Groups.io.
A Sackett snippet
Sackett brothers' half-millennium

In June 1813, seven sons of Henry and Elizabeth (Clifford) Sackett attended service at the church of St Peter in Thanet, Kent, afterwards dining together at Jeremiah Sackett's Northwood farm. The combined ages of the seven brothers totalled 503 years. The brothers were Thomas (1734-1817), Henry (1738-1818), William (1741-1819), John (1743-1827), Richard (1746-1831), Jeremiah (1749-1838) and Edward (1753-1844).
Oldest stay-at-home?

Mr John James Sackett (94), the oldest Methodist lay preacher in Kent, lived all his life at Myrtle Cottage, Thanet, the house in which he was born, and in which he has died. He had slept under another roof only twice in all that time.

— noted by Jabez Sackett (1840-1925) in an addendum to an obituary of his father Benjamin Sackett, 13 August 1885.
Half-century in pulpit

The Revd. John Sackette was Vicar of Folkestone, Kent, for 54 years from 1699 to his death in 1753. He preached the sermon at the Archbishop's Visitation in May 1702. He was also Rector of Hawkinge, Kent, for 40 years from 1713, and Vicar of West Hythe for 21 years from 1732.

— Cambridge Alumni records.
Is this a record?

When Beatrice Beldon Sackett, wife of Edward, died June 1981 in Dodge Center, Minnesota, at age 99, she was survived by 155 descendants: 3 children, 24 grandchildren, 98 great-grandchildren, and 30 great-great-grandchildren.

— Karen Gerke.
Thomas Sackett escapes the hangman

Thomas Baker Sackett (c1796-1837), convicted of highway robbery on the streets of the City of London, was sentenced to death by hanging but, following representations on his behalf, was granted an eleventh-hour reprieve from execution.
If you've got it, flaunt it!

Marriage—
Yesterday, at St. Peter's Margate, Mr. TOMLIN, jun. of North Down, to Miss CRAMP, with a fortune of, at least, £60,000. Taking their ages together, two-and thirty will be the amount.

— Morning Star ( London), Friday, July 31, 1789. This fortunate couple were Sarah Cramp, born 1771, daughter of Peter Cramp & Susanna Sackett, and Robert Tomlin, born 1770, son of John Tomlin & Sarah. Although both young at marriage, their combined ages would have been 36 rather than 32. The £60,000 would be quite a few millions in today's money.
Ann breaks live births record

The child-producing record amongst women known to historical demographers is at present shared between the wife of a solicitor of Geneva who had 21 births in the late 17th century and a girl from Kent, Ann Sackett, who was born in 1779 at Ash in that county. At 18 she married John Cook, a labourer there. By 1823 they had had 21 children at 20 births, and Ann was still alive in 1851.

— from The World We Have Lost, pp 116-7. Ann was a daughter of John and Catherine (Andrews) Sackett.
No fuss!

Married. Sackett–Brewer—Mr. J. E.Sackett, Evanston, Illinois, U.S.A., to Miss Margaret Brewer, Melbourne, Victoria. No cards. No cake. Nobody's business.

— New Zealand Evening Post, 4 May 1878.
Well judged!

Superior Judge Homer Sackett, aged 69, left the Bench at Gary, Indiana, yesterday, and grappled with the defendant in a divorce case who struck a woman witness.
The judge twice threw to the floor the defendant, who was six feet three inches and weighed 175 pounds. Judge Sackett then returned to the Bench and fined him £50 and sentenced him to 90 days for contempt of court.
—Western Daily Press, Bristol, England, 15 May 1946.
How many Sacketts are there?
Although the name originated in England, there are now many more Sacketts in the United States. The great majority of these are in the line of Simon Sackett the colonist (1595–1635).
Sacketts in the UK number just under 500, giving a frequency of 9 per million, and a surname ranking of 11,423.
There are about 5,500 Sacketts in the USA, a frequency of 20 per million, and a ranking of 5,759.
Australia has about 70 residents with the name, which is ranked 19,192, with a frequency of 4 per million.